Behold your privacy in the Internet of Things
Internet of Things is grasping into our world rapidly. The impact will be massive. See the video below for the impressive growth timeline to 2020. We already know smartphones, smart appliances, smart cities and smart meters. Newest thing on the block is smart 'Hello Barbie' doll of Mattel.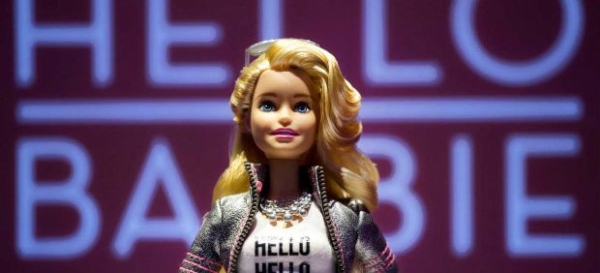 She is said to be the world's first 'interactive doll' and may have apparently life like chats and interactions with kids. Can you imagine children loving her? I do. But new artificially intelligent Barbie seems to recognize children's voice, record their talks and store these in the cloud. And wifi Barbie may also be hackable, so who else can access your child's precious data? Sure hope the data is properly secured and protected, especially if this somehow will be used commercially.
Benefits and challenges
Internet of Things will give us economic growth, comfort, ease and pleasure. At the same time, it will take big data collection and use thereof to a next and probably even harmful or unwanted level. This shall require more up to date, strict and severe privacy safeguards than we have settled for up to now.

The Internet of Things from Group SJR on Vimeo.
So, do the promises and great benefits of the interconnectivity 'everything to everything' opportunities weigh up against the privacy issues that go along with it? Are we up to the challenge to obtain these supra artificially intelligent and 'must-have in our lives and businesses' commodities without putting our personal matters in the market? Are we able to control and master the things? And find harmony between getting the best of their smart technology and the rightful protection of our personal data? It looks like a delicate balance to chase.
Internet of things data is personal
October 2014 international data protection and privacy commissioners together with other experts in the field were assembled at the 36th International Privacy Conference held in Balaclava, Mauritius. They discussed the possibilities of the Internet of Things and its consequences. Here some important observations and conclusions. In short, it was concluded that big data derived from Internet of Things devices should be regarded and treated as personal data. Protection of privacy thereof is a great challenge though.
No privacy surprises
The committee also stated that data protection is a joint responsibility of all actors in society. Transparency of information is key; what data is collected, for what purposes and how long is this data retained. There should not be any out-of-context surprises. It is important that privacy policies provide sufficient information in a clear, proper and understandable manner. This should be the basic principles of privacy policies.
Privacy by design
According to the committee all protective measures should be in place from the outset and from the moment data are collected. Privacy by design and default should become a key selling point of innovative technologies. Furthermore, significant security challenges need to be addressed. A simple firewall is no longer sufficient. Minimizing risk can for instance be ensured if data can be processed on the device itself or end-to-end encryption.
Role of authorities
To safeguard the required privacy goals the committee has indicated that the data protection and privacy authorities will continue to monitor the developments in the Internet of Things. And that the authorities will ensure compliance with the data protection and privacy laws in their respective countries, as well as with the internationally agreed privacy principles. Breaches of the law will be enforced with appropriate action. The committee also emphasizes a strong, active and constructive debate on the implications of the internet of things and its derived big data to raise awareness of the choices to be made.
Read here the full Mauritius privacy declaration.
Finding the balance
You may like or dislike, but the booming of internet of things is unstoppable. Some things may not survive, but many things will be here to stay or may be further innovated. My advice therefore is to be well prepared, guard against and properly secured. Smart management of related privacy issues is challenging but key. That should indeed be the responsibility of all stakeholders and participants. It may seem obvious, but awareness comes first. The right mindset and focus ensure the possibilities of an open dialogue on ethics, respect for mutual interests and sincere and decisive actions to find that delicate balance for harmony.
Your privacy - your opinion
What is your opinion or experience with privacy matters regarding big data derived from Internet of Things? Where and how would you think we can find that balance to deal with internet of things in harmony with privacy issues? And what role can Dutch telco's have here?
posted by: Cheryl
date: 23 March, 2015
eerder gepubliceerd op www.ntcs.nl